The Analysis of Implementation of Enterprise Resource Planning in the Warehouse Division of Trading and Service Companies, Indonesia
Keywords:
Enterprise Resource Planning, Warehouse, Performance
Abstract
Enterprise Resource Planning (ERP) is an information system that is used to integrate all information in every business process in a company by using a shared database. Proper integration of each division can improve good communication, regular workflow, and company success. This study aims to analyze the implementation of ERP in a trading and service company. Before implementing ERP, each division, namely the warehouse division and the finance division, used a separate application. As a result, there is a difference in inventory calculation between warehouse records and finance.
The study was conducted by distributing questionnaires to employees who deal directly with the ERP system in the company under study. The results of the questionnaire show that the relationship of user training and data analysis has an influence on the success of ERP implementation. After the ERP system is implemented, there are no more data miscut incidents due to work processes, spare part administration, checking of the purchase status and spare part expenditure processes in the warehouse division to be more accountable because all users use the same database for all divisions, namely the warehouse, finance, and commercial divisions. The control system of every activity in and out of goods and also better monitored, especially the spare parts that are warranty because the warehouse division has received enough information from each use of spare parts.
References
Ananda, F., Putra, R. D., & Hendrastyo, V. S. 2017. Kesuksessan Implementasi System Application Product (SAP) Studi Di PT. Semen Padang. Jurnal Pundi, 1(1).
Aritonang, R., & Lerbin, R. 2007. Riset Pemasaran: Teori dan Praktik. Bogor: Ghalia Indonesia.
Haekal, J., & Setio, H. 2017. Selection of Raw Material Suppliers Using Analytical Hierarchy Process in Food and Beverage Company, South Jakarta. ComTech: Computer, Mathematics and Engineering Applications, 8(2), 63-68.
HAEKAL, J. 2018. PERANCANGAN DAN EVALUASI IMPLEMENTASI SISTEM MANAJEMEN MUTU ISO 9001: 2015 MELALUI KEPUASAN PELANGGAN DI UNIVERSITAS ISLAM AS-SYAFI'IYAH (Doctoral dissertation, Universitas Mercu Buana Jakarta).
Baharum, Z., Ngadiman, M. S., & Haron, H. 2009. Critical factors to ensure the successful of OS-ERP implementation based on technical requirement point of view. 2009 Third Asia International Conference on Modelling & Simulation, 419-424.
Dhewanto, W., & Falahah. 2007. ERP (Enterprise Resource Planning) Menyelaraskan Teknologi Informasi dengan Strategi Bisnis. Bandung: Informatika.
Fauzan, R. 2018. Karakteristik Model dan Analisa Peluang-Tantangan Industri 4.0. PHASTI, 4(01), 1-11.
Ghozali, I. 2013. Aplikasi Analisis Multivariate Dengan Program. Edisi Ketujuh. Semarang: Badan Penerbit Universitas Diponegoro.
Kurniawati, M., Gunarta, I. K., & Baihaqi, I. 2015. Dampak Implementasi Enterprise Resource Planning (ERP) pada Kinerja Keuangan: Pendekatan Resource Based View. Prosiding Seminar Nasional Manajemen Teknologi XXIII.
Lee, Z., & Lee, J. 2000. An ERP implementation case study from a knowledge transfer perspective. Journal of information Technology, 15(4), 281-288.
Madanhire, I., & Mbohwa, C. 2016). Enterprise resource planning (ERP) in improving operational efficiency: Case study. Procedia CIRP, 40, 225-229.
Nah, F. F.-H., & Delgado, S. 2006. Critical success factors for enterprise resource planning implementation and upgrade. Journal of Computer Information Systems, 46(5), 99-113.
Nassar, M., Warrad, L., & Siam, Y. A. 2017. The Implementation of Enterprise Resource Planning System within Jordanian Industrial Sector. International Review of Management and Marketing, 7(3), 8.
Nawaz, M. N., Dr., MBA., MHRM., M.Phil.,Ph.D., & Channakeshavalu, K., Dr., ME., Ph.D. 2013. The Impact of Enterprise Resource Planning (ERP) Systems Implementation on Business Performance. Asia Pasific Jurnal of Research, 2(4), 19.
Ociepa-Kubicka, A. 2017. Advantages of using enterprise resource planning systems (ERP) in the management process. World Scientific News, 89(23 November 2017), 7. G., & Darke, P. 1999. Identification of necessary factors for successful implementation of ERP systems. New information technologies in organizational processes, 99-119.
Pracita, S. A., Soewarno, N., & Isnalita. 2018. Analisis Pengaruh Implementasi ERP Terhadap Profitabilitas dan Nilai Perusahaan. Jurnal Akuntansi Universitas Jember, 16(1 Juni 2018), 11.
Rahman, F. 2018. Evaluasi Penerapan Enterprise Resources Planning (ERP) Terhadap Penyajian Laporan Keuangan (Studi Kasus Di PT. Surya Citra Televisi). KREATIF: Jurnal Ilmiah Prodi Manajemen Universitas Pamulang, 6(3), 109-126.
Somers, T. M., & Nelson, K. 2001. The impact of critical success factors across the stages of enterprise resource planning implementations. Paper presented at the Proceedings of the 34th Annual Hawaii International Conference on System Sciences.
Sun, A. Y., Yazdani, A., & Overend, J. D. 2005. Achievement assessment for enterprise resource planning (ERP) system implementations based on critical success factors (CSFs). International journal of production economics, 98(2), 189-203.
Sunyoto, D., Drs., SH., SE., MM. 2012. Konsep Dasar Riset Pemasaran dan Perilaku Konsumen. Yogyakarta: CAPS.
Sunyoto, D., Drs., SH., SE., MM. 2014. Praktik Riset Perilaku Konsumen (Teori, Kuisioner, Alat dan Analisis Data). Yogyakarta: CAPS.
Surawijaya, S., Prakoso, G., Syahrial, I., & Nina, E. 2017. Evaluation of ERP Selection System in Small & Medium Workshop Enterprise. Journal of Scientific and Engineering Research, 4(7), 6.
Suroto, Nindiani, A., & Yuliani, E. N. S. 2017. Analisis Sistim Informasi Akademik Dengan Pendekatan Enterprise Resource Planning (Studi Kasus di Sebuah Universitas di Indonesia). Jurnal PASTI, Vol 11 No. 1, 7.
Tiara, Kusuma, H. L., Hasanah, R., & Yuliani, E. N. S. 2017. Analisis Sistim Informasi Pada SDIT Gandul Menggunakan Pendekatan Enterprise Resource Planning (ERP). Jurnal PASTI, Vol 11, No. 2, 6.
Wicaksono, A., Mulyo, H. H., & Riantono, I. E. 2015. Analisis Dampak Penerapan Sistim ERP Terhadap Kinerja Pengguna. Binus Bussiness Review, 6 (1 Mei 2015), 9.
Winata, M., Dr. 2019. REVOLUSI 4.0. Diakses pada www.mediakajianstrategisindonesiaglobal.com/2019/02/04/revolusi-4-0/
Yasin, V., S.Kom.,M.Kom. 2013. Pentingnya Sistim Enterprise Resource Planning (ERP) dalam Rangka Untuk Membangun Sumber Daya Pada Suatu Perusahaan. Manajemen Informatika, 4, 18.
Yosan, R.B., Kholil, M. and Hanum, B., 2018, March. Implementation of Inventory Management System (IMS) case study on XYZ online store business unit. In IOP Conference Series: Materials Science and Engineering (Vol. 343, No. 1, p. 012022). IOP Publishing.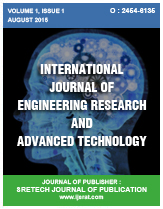 How to Cite
Hanum, B., haekal, J., & Adi Prasetio, D. E. . (2020). The Analysis of Implementation of Enterprise Resource Planning in the Warehouse Division of Trading and Service Companies, Indonesia . International Journal of Engineering Research and Advanced Technology - IJERAT (ISSN: 2454-6135), 6(7), 37-50. https://doi.org/10.31695/IJERAT.2020.3621
Copyright (c) 2020 Bethriza Hanum, Jakfat haekal, Dian Eko Adi Prasetio
This work is licensed under a Creative Commons Attribution-NonCommercial-NoDerivatives 4.0 International License.