Characteristics of M30 Grade Concrete using Copper Slag as Partial Replacement for River Sand as Fine Aggregate
Keywords:
Copper slag, Copper slag concrete, Fine Aggregate, M30 Grade Concrete
Abstract
Concrete is the preferred construction material for a wide range of buildings, bridges, and any other civil engineering structures. It is the second most widely consumed substance on earth after water. Aggregates are considered as one of the main constituents of concrete since they occupy 70-80% of the volume of concrete. In many countries, there is a scarcity of natural aggregates. To reduce dependence on natural aggregates as the main source of aggregate in concrete, artificially manufactured aggregates generated from industrial wastes provide an alternative for the construction industry. Copper slag is one such industrial waste that can be implemented as an alternative for natural aggregate. Copper slag is an excellent by-product or waste material that retains its original properties. Due to its chemical composition which includes high iron, silica, and aluminum oxide content, it can be used as a partial replacement for sand in concrete mixes. This paper emphasizes COPPER SLAG CONCRETE which is a new evolution in the field of concrete design. Copper slag upon using as a partial replacement for river sand as fine aggregate can avoid the voids in the concrete and may increase the durability and strength of the structure. In this study M30 grade concrete mixes of 30%, 40%, and 50% replacement of river sand with copper slag are tested for compressive, split tensile and flexural strengths for the ages of 1, 3, 7, 28, 56, and 91 days of curing.
References
Alnuaimi AS, (2012), " Effects of Copper slag concrete as a Replacement for Fine Aggregate in the behavior and ultimate strength of reinforced concrete slender columns", ITJER, Vol. 9, No.2, pp 90-102
Antonio M. Arino and Barzin Mobasher, "Effect of ground copper slag concrete on strength and toughness of cementitious mixes", ACI material Journal, Vol.96, No.1, pp 68-74
Binod Kumar, (2012), "Properties of pavement quality concrete and dry lean concrete with copper slag concrete as fine aggregate" International Journal of Pavement Engineering, vol. 1, pp1-6.
Brindha.D and Nagan.S, "Durability studies on copper slag concrete admixed concrete", Asian journal of civil engineering (Building and Housing) Vol. 12, NO. S pages 563-578(2011)
Chavan R and Kulkarni D B international "Performance of copper slag concrete on strength properties as partial replacement of fine aggregate in concrete Mix Design", Journal of Civil and Structural Engineering Volume 1 No.4 (2011)
Lavanya Cet al "Review On Utilization of Copper slag concrete in geo-technical Applications", PaperNo.H-212(2011).
Meenakshi, et al "Performance of Copper slag concrete and ferrous slag as partial replacement of sand in concrete", International Journal of Advanced Engineering Research and Studies.(2013)
Nagan.S, et al"Assessment of Corrosion and Durability Characteristics of Copper slag concrete Admixed Concrete", International Journal of civil and structural engineering volume no.2
Pundhir NKS et al. "Use of copper slag concrete as construction material in bituminous pavements", Journal of Scientific &industrial research vol 64 (2005)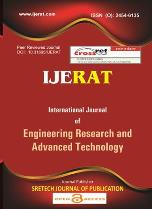 How to Cite
P. Sarath, B.Taruni, G. Gowtham, & M. Bhargavi. (2021). Characteristics of M30 Grade Concrete using Copper Slag as Partial Replacement for River Sand as Fine Aggregate. International Journal of Engineering Research and Advanced Technology (ijerat), 7(5), 10-18. https://doi.org/10.31695/IJERAT.2021.3709
Copyright (c) 2021 P. Sarath, B.Taruni, G. Gowtham, M. Bhargavi
This work is licensed under a Creative Commons Attribution-NonCommercial 4.0 International License.