Subject Review: Feature Extraction Based on Palm Print
Keywords:
Palm print, Feature Extraction, Region of interest (ROI), Euclidian distances
Abstract
         Physiological biometrics is one of the attractive fields for researchers due to its unique and stable features. One of these physical biometrics is "Palm Print". This new approach is used in personal recognition because of the powerful information that can be extracted from the palm print. The characteristics that are extracted keeping the rules of palmprint feature extraction are very important. In spite of the huge work done in this approach, the results recorded about the palm print are still uncompleted and the techniques that used in palm print feature extraction used in recognition are still continually modified. In this paper, we present a detailed background review for many techniques and methods that are used to extract features from palm print with many various methods and procedures. A comparison between these techniques is also presented.
References
Kanchana.A and Stanly Jayaprakash .J, "INTRODUCTION TO PALM PRINTS RECOGNITION", International Research Journal of Engineering and Technology (IRJET), e-ISSN: 2395-0056, p-ISSN: 2395-0072, Volume: 04 Issue: 11 | Nov -2017.
S.Adebayo Daramola, Olujimi Ajayi and Tiwalade Odu, "Robust Palm-Print Feature for Human Identification", International Journal of Engineering and Advanced Technology (IJEAT), ISSN: 2249 – 8958, Volume-3, Issue-4, April 2014.
MUSTAFA S. KADHM, HAYDER AYAD and MAMOUN JASSIM MOHAMMED, " PALM PRINTS RECOGNITION SYSTEM BASED ON PROPOSED FEATURES EXTRACTION AND (C5.0) DECISION TREE, K-NEAREST NEIGHBOUR (KNN ) CLASSIFICATION APPROACHES", Journal of Engineering Science and Technology, Vol. 16, No. 1 (2021) 816 – 831.
Dimitrios Marmanis, Mihai Datcu, Thomas Esch and Uwe Stilla, "Deep Learning Earth Observation Classification Using ImageNet Pretrained Networks", IEEE GEOSCIENCE AND REMOTE SENSING LETTERS, VOL. 13, NO. 1, JANUARY 2016.
Sun, Q., Zhang, J., Yang, A., and Zhang, Q.,"Palm prints recognition with deep convolutional features. Chinese Conference on Image and Graphics Technologies", Springer, Singapore, 12-19, 2017.
Dr. Vinayak Ashok Bharadi," Texture Feature Extraction For Biometric Authentication using Partitioned Complex Planes in Transform Domain", IJACSA Special Issue on Selected Papers from International Conference & Workshop On Emerging Trends In Technology 2012.
M.L. Anitha and K.A. Radhakrishna Rao, "Extraction of Region of Interest (ROI) for Palm Print and Inner Knuckle Print", International Journal of Computer Applications (0975 – 8887), Volume 124 – No.14, August 2015.
Irfan Ahmad, Zahoor Jan, Inayat Ali Shah, and Jamil Ahmad, "HAND RECOGNITION USING PALM AND HAND GEOMETRY FEATURES", Sci.Int.(Lahore),27(2),1177-1181, ISSN 1013-5316; CODEN: SINTE 8 ,2015.
Prof. Arjun Nichal, Ms. Supriya Jadhav, Ms. Karishma Shikalgar and Ms. Poonam Maharnur, " Palm Print Feature Extraction and Authentication Using 2-D Gabor Filter", International Journal of Advanced Research in Computer and Communication Engineering, ISSN (Online) 2278-1021, ISSN (Print) 2319 5940, Vol. 5, Issue 4, April 2016.
Mouad M.H.Alia, Pravin L.Yannawar, and A. T. Gaikwad, "Multi-Algorithm of Palm prints Recognition System Based on Fusion of Local Binary Pattern and Two-Dimensional Locality Preserving Projection", 7th International Conference on Advances in Computing & Communications, ICACC-2017, 22- 24 August 2017, Cochin, India.
Ali Younesi and Mehdi Chehel Amirani," Gabor Filter and Texture based Features for palm print Recognition", International Conference on Computational Science, ICCS 2017, 12-14 June 2017, Zurich, Switzerland.
Abdul Kareem,Z. Mohammed and Jamila H. Saud," Feature Extraction from hand Dorsal Vein and Palm prints", International Journal of Advanced Research in Computer Engineering & Technology (IJARCET), ISSN: 2278 – 1323, Volume 08, Issue 03, March 2019.
Bilal Attallah, Amina Serir and Youssef Chahir," Feature extraction in Palm prints recognition using a spiral of moment
skewness and kurtosis algorithm", Pattern Analysis and Applications, Springer Verlag, 22 (3), pp.1197–1205, 2019.
Mustafa S. Kadhm, Hayder Ayad And Mamoun Jassim Mohammed," Palm Prints Recognition System Based On Proposed Features Extraction And (C5.0) Decision Tree, K-Nearest Neighbour (Knn ) Classification Approaches", Journal Of Engineering Science And Technology Vol. 16, No. 1 (2021) 816 – 831.
Raniah Ali Mustafa, Haitham Salman Chyad and Rafid Aedan Haleot," Palmprint recognition based on harmony search algorithm", International Journal of Electrical and Computer Engineering (IJECE), ISSN: 2088-8708, DOI: 10.11591/ijece.v11i5.pp4113-4124, Vol. 11, No. 5, October 2021, pp. 4113~4124.
Xi Chen, Ming Yu, Feng Yue, and Bin Li," Orientation Field Code Hashing: A Novel Method for Fast Palm prints Identification", IEEE/CAA JOURNAL OF AUTOMATICA SINICA, Digital Object Identifier 10.1109/JAS.2020.1003186, VOL. 8, NO. 5, MAY 2021.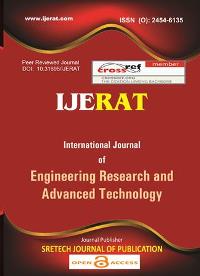 Downloads
License
Copyright (c) 2021 Raniah Ali Mustafa, Amal Abdulbaqi Maryoosh, Zahraa Salah Dhaief
This work is licensed under a Creative Commons Attribution 4.0 International License.
How to Cite
Subject Review: Feature Extraction Based on Palm Print. (2021).
International Journal of Engineering Research and Advanced Technology (ijerat) (E-ISSN 2454-6135) DOI: 10.31695 IJERAT
,
7
(8), 23-27.
https://doi.org/10.31695/IJERAT.2021.3735